Each month, I highlight one Key Performance Indicator (KPI) for service and support. I define the KPI, provide recent benchmarking data for the metric, and discuss key correlations and cause-and-effect relationships for the metric. The purpose of the column is to familiarize you with the KPIs that really matter to your organization and to provide you with actionable insight on how to leverage these KPIs to improve your performance! This month, I look at desktop support cost per ticket.
Cost per ticket is the total monthly operating expense of desktop support divided by the monthly ticket volume. Operating expense includes the following components:
Salaries and benefits for desktop support technicians
Salaries and benefits for indirect personnel (team leads, supervisors, workforce schedulers, dispatchers, QA/QC personnel, trainers, and managers)
Technology and telecom expense (computers, software licensing fees, etc.)
Facilities expense (office space, utilities, insurance, etc.)
Travel, training, and office supplies
As you might expect, the majority of costs for desktop support are personnel related. The figure below shows the average breakdown of costs for North American desktop support organizations in 2017.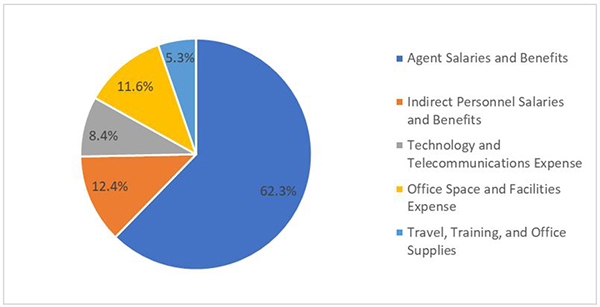 Why It's Important
Cost per ticket, along with customer satisfaction, are often referred to as the foundation metrics in desktop support. They are the two most important metrics because ultimately everything boils down to cost containment (as measured by cost per ticket) and quality of service (as measured by customer satisfaction).
In any service delivery organization, cost, or more accurately unit cost, is critically important. Cost per ticket is a measure of how efficiently desktop support conducts its business. A higher than average cost per ticket is not necessarily a bad thing, particularly if accompanied by higher than average quality levels and lower mean times to resolve. Conversely, a low cost per ticket is not necessarily good, particularly if the low cost is achieved by sacrificing quality of service or results in longer than average resolution times. Every desktop support organization should track and trend cost per ticket on a monthly basis.